Screen Studies

ongoing series
gouache on paper
Screen Studies
is an ongoing study of a repeated cinematic trope where a female-identifying subject appears doubled, reflected or mirrored in the film frame. Often constrained by the fetishism of cinematic language the doubled women appear in reflected windows, double exposures or looking into vanity mirrors. Positioned in a moment of vulnerability or defiance the act of looking back reflects the voyeurism inherent in the constructed image. Here redrawn as screenshots which include the lens of the screen, toggle bars, search buttons, mouse cursers and timecodes this series reflects how these representations transpire and translate.
Images:
1. Rita Hayworth, The Lady from Shanghai, 2018, gouache on paper, 27.2 x 84.7cm 2. Installation shot, Bloomberg New Contemporaries, Leeds Art Gallery, photography by Jules Lister, image courtesy of New Contemporaries.
3. Installation shot, Playback: Dobell Australian Drawing Biennial 2018, Art Gallery of New South Wales, photography by Mim Stirling, image courtsey of AGNSW.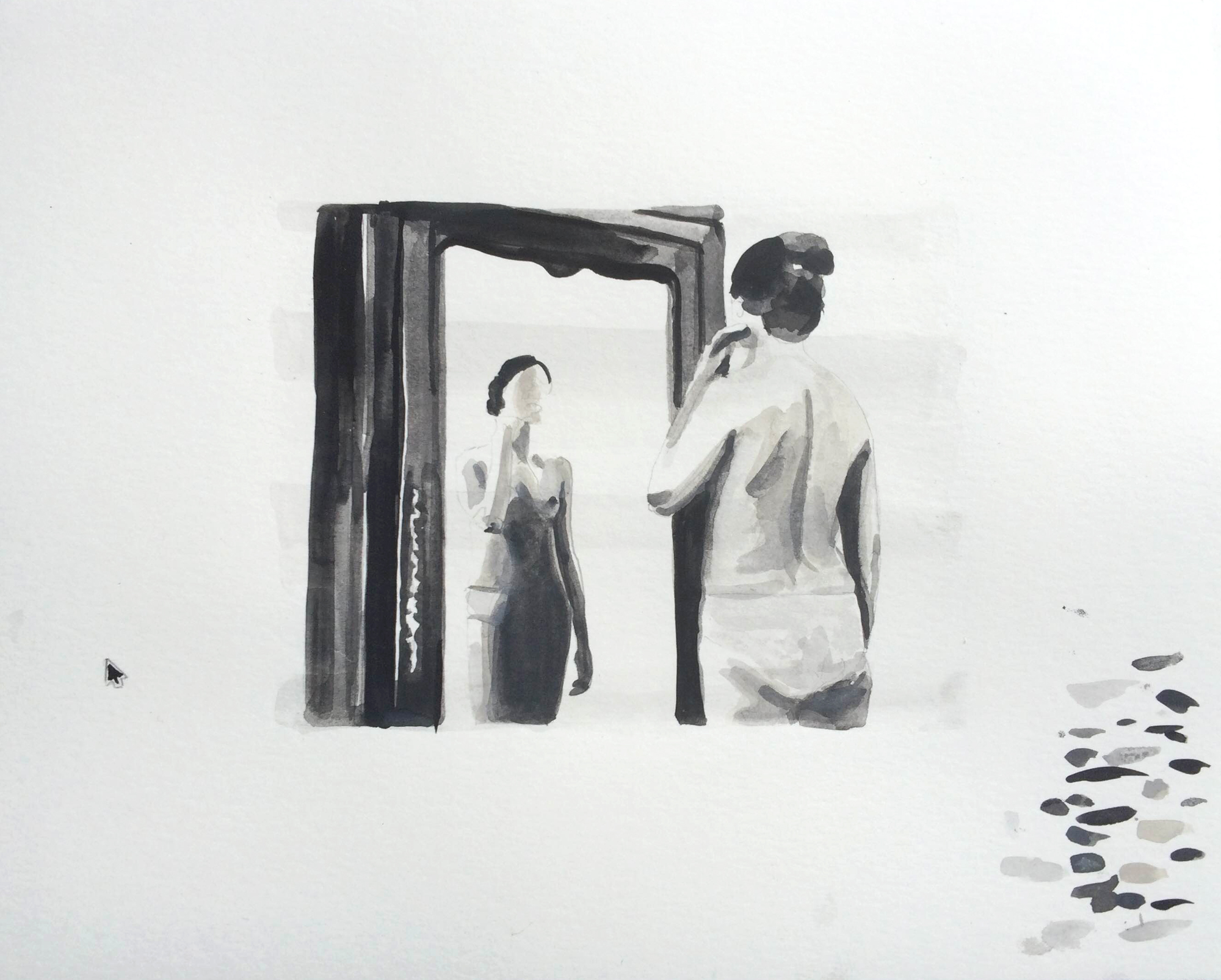 Amy Pickles
on
Screen Studies
"The artist Laura Hindmarsh shows you images, on her phone, of her works
Screen Studies
, 2014-2019, gouache and pencil on paper, 17.5 x 25 cm (approx). You take the phone from her and zoom in with middle finger and thumb. Zoom in to delicate gouache grooves composing black and white images of screenshots on a mac computer, you can tell the brand from the toggle bar and search button that are sometimes included. In others a youtube clip is paused and you can squint to read the timecode. These inclusions hint at origins and sites of transaction.
In another, open image in a new tab interrupts the jpeg, it is a bright white instruction on top of a dark painting. In the dark there is a woman holding a 16mm projector. Is that you? You ask. No, that's Trisha Brown. You mistake one artist for another, their intentions merged by mechanism. Later Laura tells you; it's projecting a film of her doing the same dance - its called
Homemade
- really nice work, in relation to mediation and liveness … I think you would like it. Laura has worked with analogue film and photography for a long time and you know that she thinks about light and dark in material ways. Her work requires a specific amount of illumination. You keep scrolling and see other women who are Laura and are not Laura, they are women in film while Laura works with it. She tells you
Screen Studies
is an ongoing work; everytime there is a moment on camera where a woman's image is doubled, I take a screenshot. It is a growing collection, many reflections are held in gouache, women caught and multiplied.
Laura captures these heroines from their screen and makes a new context with her hand, paint and sheet of paper. In so doing, does Laura's action release these feminine forms from the constraints of the directed narrative? They are free to use their reflection to make a new story. Keeping the structure of a computer screen present in the work, reminds us of the constraints on Laura's body too, her narrative of routine life. You can imagine her watching films in a variety of places, the scenarios sit between work, pleasure, research, relaxation. We are always at work when we are at rest. Laura will not stop making, she will not stop researching, we will not stop uploading, sharing, disseminating. We will not stop gazing at our reflection. Screen Studies will never end."

Amy Pickles
is an artist, writer and educator